The IP address 192.168.0.1 is a crucial component of computer networking. It belongs to the IPv4 (Internet Protocol version 4) addressing scheme, which is used to identify devices on a local network. Specifically, 192.168.0.1 is often designated as the default gateway for a home or small office router.
This address serves as the entry point for devices in the local network to access the wider internet. When a device within the network wants to communicate outside of it, it sends its data packets to the router, which then forwards them to the appropriate destination.
Typically, users can access the router's settings and configurations through a web interface using a browser. By typing "http://192.168.0.1" into the address bar, users can access a login page where they can make adjustments to their network settings, such as modifying Wi-Fi passwords, configuring port forwarding, or setting up security protocols.
Read also: 10.0.0.1 – Login Admin
192.168.0.1 IP Address
You can access the admin page by entering 192.168.0.1 in your web browser's address bar or by clicking the link provided below.
If you're in the same network as your Wi-Fi router, your router's admin IP address should match your local IP address.
Default logins for 192.168.0.1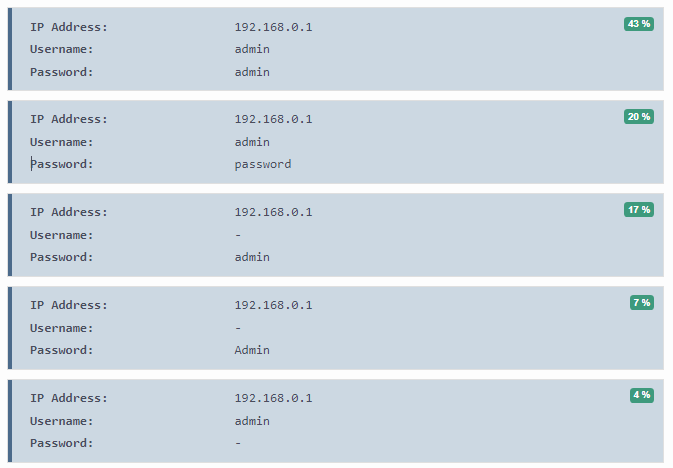 Login Steps
Accessing your router's admin console through http://192.168.0.1 enables you to customize default settings and configurations embedded within the router's software. Here's a step-by-step guide:
Type 192.168.0.1 into your browser's URL bar, also known as the address bar. If you encounter an error message, it means your router's IP address isn't 192.168.0.1. Refer to this article to find your router's specific IP address. Once you have it, paste it into the address bar.
You should now see the login panel. This is where you enter your router's username and password. If you've forgotten these credentials, follow the provided instructions to retrieve them. If you've never changed the username and password, consult our list of default router usernames and passwords to find the original login details.
You're now in your router's admin panel, where you can make adjustments to your internet and IP settings, and unlock the full potential of its advanced features.
Configure Your Router
Here are some crucial router settings you might consider modifying to enhance your network experience. Keep in mind that these are just a few examples, and there are numerous other configurations you can explore. Feel free to experiment and find what works best for you!
Updating Your Router's Login Information
Upon gaining access to your router's configuration settings, the first crucial step is to manually change the default password. This process applies universally, encompassing both D-Link and TPLink routers. Regardless of your router's make or model, the login process typically follows the same pattern. Begin by clicking on "Settings," then select "Reset Router Password." Proceed by entering a new password and saving the settings before logging out.
Modifying Your Router's IP Address
Adjusting your local router's IP address is a straightforward task. Start by entering your router's IP address in the URL bar, which is typically 192.168.0.1. Afterward, input your login information. Once you've successfully gained access to the router, click on "Setup," then select "Network Setup." From there, navigate to "Router Settings" and input the new IP address.
Establishing Parental Controls
Parental controls are designed to safeguard children from inappropriate online content. There are two main types: filtering controls and monitoring controls. Monitoring controls allow you to oversee your child's online activities, while filtering controls enable you to restrict access to age-restricted content and set time limits for internet usage. Customize these settings according to your preferences and observe what works best for you.
Performing a Router Reset
Avoid using the onboard button labeled "Reset," "Restart," or "Reboot," as it may trigger a factory reset of your modem. Instead, unplug both your router and modem from the power source, leave them disconnected for approximately a minute, and then plug them back in.
Updating the Router's Firmware
Regularly updating your router's firmware is a recommended practice. Visit the manufacturer's website to check for available upgrades. Additionally, when connecting a new device to your computer, always opt for the "Home" option.
About the 192.168.0.1 IP Address
The IP address 192.168.0.1 is a crucial component in networking, specifically within the context of local area networks (LANs) and home networks. Here are some key points about this address:
192.168.0.1 – Popular with NETGEAR and D-Link
You're likely aware that each internet-connected device possesses its distinct Internet Protocol Address (IP Address). These addresses fall into two categories: private and public. While every internet-connected device has its own unique IP address, we'll now zero in on a particularly renowned one, which happens to be one of the most widely used: 192.168.0.1.
So, what sets this address apart? 192.168.0.1 is a private IP address frequently designated as the default for specific broadband routers, particularly those made by Netgear and D-Link.
Private vs. Public IP Addresses
Each computer possesses a public IP address, assigned by their internet service provider (ISP), which must be unique worldwide. In contrast, your router is assigned a private IP address, restricted to use within private networks.
Unlike your computer's public address, the private address of your router doesn't require global uniqueness, as it isn't a direct access point. Essentially, this means that the router's private address is only reachable from within the private network. This provides a layer of security, ensuring that only individuals within the private network can access the IP address, such as 192.168.0.1, and prevents unauthorized external access.
Internet Assigned Numbers Authority (IANA)
The Internet Assigned Numbers Authority (IANA) is a major organization responsible for managing IP addresses globally. This organization was instrumental in introducing a distinct category of IP address known to us as IP version 4 (IPv4). IPv4 is a 32-bit numerical value typically represented as four sets of numbers separated by periods.
Public IP Addresses
Public IP addresses must be distinct in every conceivable way. In the past, this presented an issue for the IPv4 system, which could only accommodate approximately 4 billion unique addresses. However, the IANA addressed this challenge by introducing the IPv6 standard. As you might expect, the IPv6 system allows for vastly more combinations compared to the IPv4 system.
Private IP Addresses
The Internet Assigned Numbers Authority has designated specific number blocks as private. This allocation encompasses approximately 17.9 million distinct private IP addresses, all earmarked for usage within private networks. This allocation is a primary reason why a router's IP address need not be unique.
Whether for a major organization or a modest home network, the router assigns a private IP address that is linked to its specific network. Every device within that network can communicate with one another using this private IP address. It's crucial to note that private IP addresses cannot directly access the internet. In other words, they must first establish an internet connection through an Internet Service Provider (ISP).
Setting Up a Broadband Connection
To begin, ensure your broadband modem is connected to the router. Employ a standard Category 5 Ethernet cable to link your DSL or cable modem to the router's port labeled as either "Internet" or "WAN." Following this, use another Ethernet cable to establish a connection between your computer and one of the router's LAN ports. If your router features a built-in wireless connection, you can also use your iPhone or any other smart device to connect to your Wi-Fi signal.
Brands using 192.168.0.1
3 Com
Aceex
Actiontec
Ambi Com
Anker
Arris
Askey
Atel
At&T
Axesstel
Bountiful Wi Fi
Buffalo
ard
Card King
Castle Net
China
Cisco
C Net
Compal
Compal Broadband Networks
FAQ: 192.168.0.1 IP adddress
What is 192.168.0.1?
192.168.0.1 is a default private IP address used by many router manufacturers as a gateway to access the router's settings and configuration.
How do I access 192.168.0.1?
Open a web browser and type "192.168.0.1" into the address bar. Press Enter, and you should be directed to the login page of your router.
What if 192.168.0.1 doesn't work?
Ensure that you've typed the address correctly. If it still doesn't work, consult your router's manual or try looking up the default gateway in your computer's network settings.
What can I do once I'm on the 192.168.0.1 page?
You can access various settings like network configurations, security options, and set up port forwarding. You can also change your Wi-Fi name and password.
Can I change my router's IP address from 192.168.0.1?
Yes, you can change your router's IP address, but it's recommended to consult your router's manual or the manufacturer's website for specific instructions.
Is 192.168.0.1 the same for all routers?
No, while 192.168.0.1 is a common default IP address, different router manufacturers may use different default IPs. Some alternatives include 192.168.1.1 or 192.168.0.0.
What if I forget my login credentials for 192.168.0.1?
You may need to perform a factory reset on your router to restore the default login details. Refer to your router's manual for specific instructions.
Is 192.168.0.1 secure?
It is relatively secure as it is a private IP address meant for internal network configuration. However, it's crucial to change the default login credentials to enhance security.
Conclusion
Understanding and effectively utilizing the IP address 192.168.0.1 is essential for managing and configuring routers. This private address serves as a gateway to a router's settings, allowing users to customize network configurations, security parameters, and other vital aspects of their internet connection. While it's a widely used default address, it's important to note that variations may exist depending on the router manufacturer.
Properly connecting the broadband modem to the router and accessing the 192.168.0.1 page through a web browser are fundamental steps in this process. Once on the page, users can modify settings, such as network configurations and Wi-Fi credentials, to suit their specific needs.