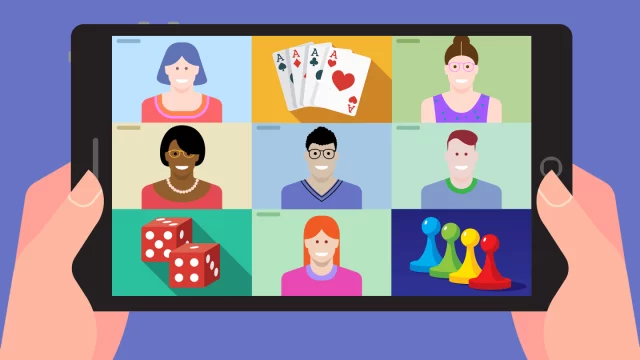 In this digital age, staying connected with friends and groups has become easier than ever through virtual gatherings. Hosting virtual game nights is a fantastic way to bond, share laughter, and create unforgettable memories, regardless of physical distance. Whether you're planning a virtual party, a team-building session, or just a casual hangout, we've compiled a list of 15 fun virtual games such as slot that will keep everyone entertained and engaged. Let the virtual gaming adventures begin!
15 Fun Virtual Games to Play with Groups Online
1. Jackbox Party Pack
The Jackbox Party Pack offers a collection of hilarious and creative party games that can be played remotely. From trivia to drawing challenges, it's perfect for virtual gatherings.
2. Among Us
Among Us is an engaging social deduction game that tasks players with finding the impostors among the crew members on a spaceship. Collaborate, deceive, and uncover the truth!
3. Codenames
Codenames is a word-based deduction game where players work in teams to identify secret agents based on one-word clues given by their spymasters.
4. Online Escape Rooms
Experience the excitement of solving puzzles and riddles together in virtual escape rooms. Work as a team to escape before time runs out.
5. Kahoot!
Kahoot! is a popular platform for creating and playing interactive quizzes and trivia games. Host your own quizzes or join public ones for some friendly competition.
6. Pictionary
Draw, guess, and laugh together with virtual Pictionary. Use online drawing tools to bring this classic game to your virtual gatherings.
7. Skribbl.io
Skribbl.io is an online multiplayer drawing and guessing game that guarantees hours of fun. Try to guess what your friends are drawing while taking your turn to doodle.
Read More: How to Play BGMI
8. Online Board Games
Play your favorite board games virtually with platforms like Tabletop Simulator or Tabletopia. From classic games to modern favorites, the options are endless.
9. Quiplash
Quiplash is another fantastic party game from the Jackbox series that prompts players to come up with witty responses to quirky prompts. Let the laughter ensue!
10. Virtual Trivia Night
Host a virtual trivia night with various categories and questions. Test your knowledge and see who comes out on top.
11. Houseparty
Houseparty is a social networking app that offers various games to play with friends, including Heads Up!, Quick Draw, and Trivia.
12. Online Murder Mysteries
Immerse yourselves in virtual murder mysteries where players become detectives, suspects, and witnesses. Solve the crime together and unveil the culprit.
13. Virtual Charades
Bring the classic game of Charades to your virtual gatherings. Act out words or phrases without speaking and have others guess what you're portraying.
14. Mario Kart Tour
Race against friends in the mobile version of the beloved Mario Kart series. Zoom past the competition and claim victory on virtual racetracks.
15. Psych!
Psych! is a party game that challenges players to come up with fake answers to trivia questions. Try to deceive others while spotting the real answers.
FAQs
Q: Can these games be played with large groups?
Yes, many of these virtual games can accommodate large groups of players, making them perfect for gatherings with friends and colleagues.
Q: Are these games suitable for team-building sessions?
Absolutely! Games like Codenames and virtual escape rooms encourage teamwork, communication, and problem-solving, making them ideal for team-building activities.
Q: Can I play these games on different devices?
Most of the listed games are accessible on various devices, including smartphones, tablets, and computers.
Q: Do I need to download any special software for these games?
Many of the games can be played directly through web browsers or downloadable apps, making setup hassle-free.
Q: Are these games appropriate for all age groups?
While some games may have age-appropriate themes, many of them are family-friendly and suitable for players of all ages.
Q: How can I host virtual game nights?
Platforms like Zoom, Skype, or Discord are great for hosting virtual game nights. Simply invite your friends or colleagues to join, and you're ready to play!
Conclusion
With these 15 fun virtual games like slot gacor, you have an arsenal of entertainment at your fingertips to enjoy with friends and groups online. Whether you're into thrilling murder mysteries, witty wordplay, or classic trivia, these games will keep the fun and laughter going, no matter the distance. So, gather your virtual crew, and let the gaming adventures begin!