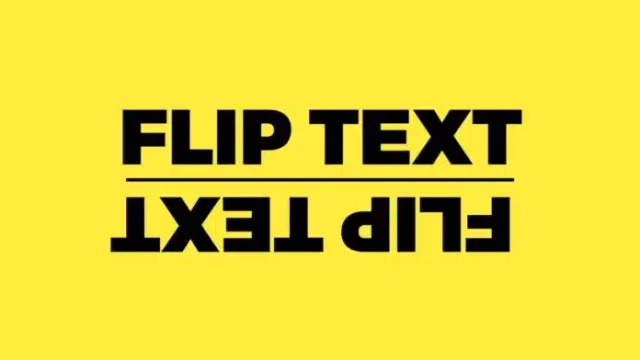 If you're an Android user, you should definitely check out Flip Text – one of the best Android applications out there. This app is great for those who want to add a little fun and creativity to their messaging. With Flip Text, you can send messages to your friends on WhatsApp and Facebook that are flipped, making them look unique and eye-catching. WhatsApp is the most popular messaging app in the world, and it's constantly updating its features to make the user experience even better. However, people tend to get bored with the same old messaging style, which is why Flip Text is such a great app to have on hand.
With Flip Text, you can write your message in the app and it will automatically flip the text for you. It's a simple and easy process that can make your messages stand out. You can use Flip Text to write anything from a simple "hello" to a more complex message, and it will all be flipped and ready to send.
To use Flip Text, all you need to do is download the app from the Google Play Store. Once you've downloaded and installed the app, you can start using it right away. The app is easy to navigate and has a simple user interface, so you won't have any trouble finding your way around. Once you've opened the app, you can start typing your message in the text box provided. The app will automatically flip the text for you, so you can see what it will look like before you send it. If you're happy with the way the text looks, you can copy it and paste it into WhatsApp or Facebook.
One of the best things about Flip Text is that it's completely free to use. There are no hidden fees or in-app purchases, so you can use the app as much as you like without having to worry about paying for it. The app is also very lightweight, so it won't take up too much space on your phone.
Another great feature of Flip Text is that it supports multiple languages. This means that you can write your message in any language you like and the app will still flip it for you. Whether you're writing in English, Spanish, French, or any other language, Flip Text has got you covered. Overall, Flip Text is a fun and useful app that every Android user should know about. It's a great way to add a little creativity to your messaging and make your messages stand out. If you're looking for a new way to spice up your chats on WhatsApp and Facebook, be sure to check out Flip Text. It's free, easy to use, and a lot of fun!
How to use the Flip text Android App
First, you have to download this app on your phone by clicking on the link below.
Now install the App on your phone.
After this, you have to allow all permission in this App
Now you can enjoy this App
I hope you enjoy reading this post. If you have any questions related to this post, then comment below. And share this post on all social media.