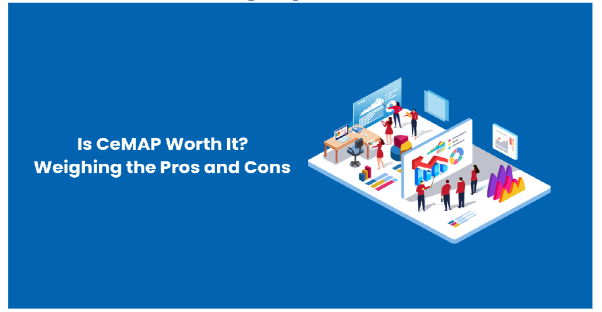 Acquiring professional recognition and expertise in the fast-paced fields of finance and mortgage advising is crucial for career advancement and success. The CeMAP (Certificate in Mortgage Advice and Practice) Certification is a renowned credential that is highly regarded in the mortgage sector. It gives people the information and abilities needed to help customers navigate the complicated world of mortgages and loans by offering them expert mortgage advice.
Even though CeMAP Certification has many advantages, there are also things to consider before starting this professional path. To assist you in determining whether seeking CeMAP Certification is worthwhile for you, we will examine the benefits and drawbacks, also answer the question, "Is CeMAP worth it"?
The Pros of CeMAP Certification
Here are the pros of CeMAP Certification:
1. Your professional credentials will be strengthened by CeMAP Certification, which shows your dedication to excellence in mortgage advice. It provides a variety of job options in the financial and mortgage sectors.
2. Employers, financial institutions, and regulatory bodies all acknowledge and appreciate CeMAP. Being certified can increase your reputation and dependability as a mortgage expert.
3. A wide range of subjects pertaining to mortgages, lending, and financial laws are covered by the CeMAP Certification. It gives you the in-depth knowledge you need to provide them with wise guidance.
4. Due to their specialised knowledge in mortgage advice and practice, CeMAP-certified professionals frequently attract greater salaries and commissions.
5. After completing the CeMAP trip, one will have grown personally and feel a feeling of Achievement.
The Cons of CeMAP Certification
Here are the cons of CeMAP certification:
1. The cost and effort required to obtain CeMAP Certification are substantial. The cost of the training sessions and exams may be high.
2. The CeMAP examinations are difficult and need careful planning. It could be challenging for some people to complete all three levels on their first try.
3. Since the financial sector is always changing, CeMAP-certified professionals must continue their education to remain abreast of new laws and market trends.
4. There may be a glut of CeMAP-certified advisers on the market in some areas, making it more difficult to get employment.
5. CeMAP is mostly acknowledged in the UK and could not have the same value in other nations, restricting global employment options.
Factors to Consider
Here are the factors to consider:
1. Examine your long-term professional objectives to see if CeMAP Certification fits your desired career path in finance and mortgage.
2. To ascertain the need for CeMAP-certified individuals and prospective employment opportunities, research the job market in your area.
3. As the financial world changes quickly, evaluate your commitment to lifelong learning and remaining current with industry advances.
4. Consider the cost of training, examination fees, and prospective revenue prospects when assessing the financial effects of achieving CeMAP Certification.
Conclusion
The CeMAP Certification offers various advantages to anybody wishing to start a successful career in mortgage advice and practising. It enhances your professional profile, broadens your earning potential, and provides access to several financial possibilities. However, there are certain disadvantages, such as the necessity for continued study, the commitment of time and money, and the difficulty of the tests. Your goals, degree of learning devotion, and excitement for the mortgage industry ultimately determine the decision to achieve CeMAP Certification.
You may make a decision that will set you on the path to success in the dynamic sector of mortgage advising by carefully weighing the benefits and drawbacks, seeking assistance, and matching your goals with the potential benefits.